This post has been saved from my old blog hellyeahfouringredientrecipes.tumblr.com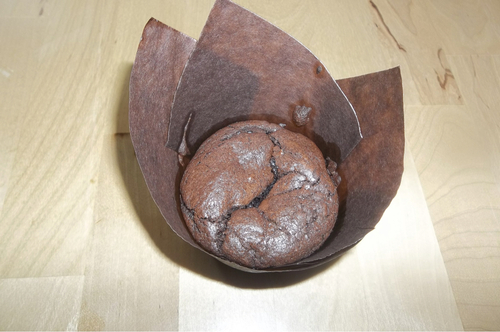 Preheat oven at 170 degrees 
Line a mini cupcake tray with 9 cases (or fewer bigger cases!)
Whisk 1 egg and ½ cup of chocolate spread/Nutella together
Whisk in 5 tablespoons of SR flour
Add some chopped macadamia nuts
Pour into cupcake cases
Cook until a tester comes out with sticky crumbs on it (10 mins ish for mini cupcakes, 20 mins ish for muffin-esque cakes)
There - 4 ingredients and 20 minutes and you've got some of the most delicious cupcakes you'll ever taste. Downside is that the recipe doesn't make all that many! [Credit to Nigella and Cake or Death for the recipe inspiration].
"But whose birthday is it?", you ask! Well - my beautiful wife has a birthday coming up this weekend and it's for her. But being a magnificent baker, cook and blogger she is hosting an ingredient swap on her blog and is asking bloggers around the world to make a cake with the surprise ingredients in her honour. Check out her blog for more details: Makey Cakey.  
Many many many thanks to Vanessa who was my ingredient swap buddy and who sent me an awesome parcel of Australian goodies (including the macadamia nuts). Vanessa made Scottish Tablet Cupcakes with Whisky Icing with the ingredients that I sent her - check them out, they look amazing!!!!
Happy birthday to my lovely wife - I hope that you enjoy the cupcakes.