Spring Rollies (AKA Simnel Parcels)
This post has been saved from my old blog hellyeahfouringredientrecipes.tumblr.com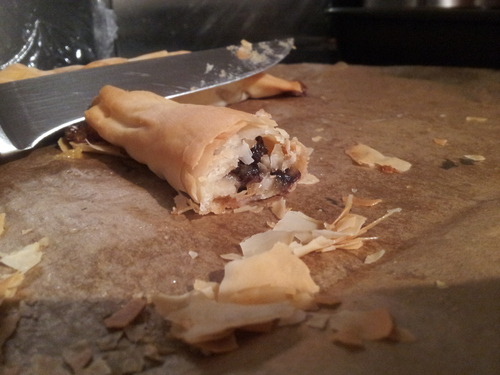 It's time for another ingredient swap courtesy of my amazing wife Ruth and her Makey-Cakey blog. This time around my swap partner was Jean at Baking in Franglais and she very kindly sent me raisins, marzipan and some dairy-free chocolate coated raisins - what a winning combo. I'd have happily eaten the whole block of marzipan but that's not really the point of an ingredient swap! I haven't used the dairy-free chocolate raisins yet - there's a chance that my dairy-free daughter may well be given them to nom if I have a parenting emergency any time soon! Anyway - seeing as it's almost spring I thought I'd attempt to make something Eastery with only four ingredients (as long as you don't count oil or mixed spice!). Here are the ingredients:
Filo pastry 

Marzipan

Apple 

Raisins
Here's what to do: Grease a tin and layer 3 strips of filo with oil between each layer. Next put one strip of marzipan down the middle of the pastry, then layer a handful of raisins and some lightly microwaved apple, stewed with a little water and mixed spice or cinnamon. Roll into parcels/sausages and cook for about 20 mins at 160C. 
Thank you to Jean and Ruth. :)
Enjoy.