This post has been saved from my old blog hellyeahfouringredientrecipes.tumblr.com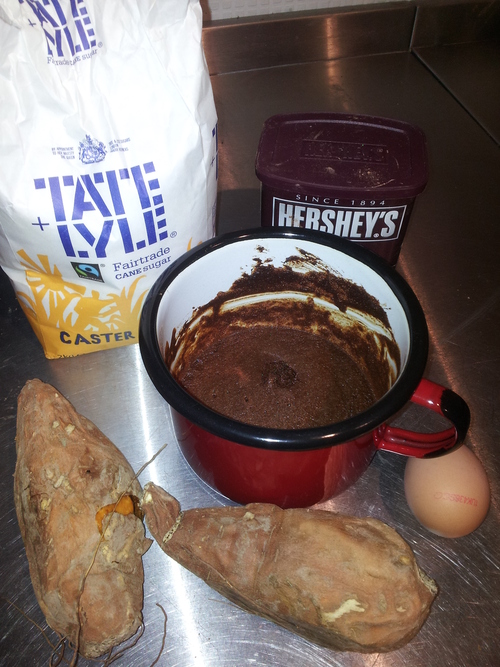 I'm participating in my very first Daring Bakers' Challenge this month as my wife Makey Cakey Ruth is this month's host. The challenge is to hide a vegetable in a cake… and that doesn't mean just putting a salsify at the bottom of the sponge cake and hoping nobody notices! I thought I'd stick with the four ingredient thing that I've been doing on this blog and give a four ingredient brownie a go. A four ingredient dairy-free, gluten-free, fat-free brownie with a veggie hidden in it? Yup, I nailed it. I'm lazy so I did all the mixing and cooking in an enamel mug without bothering to grease it or anything - it meant I had to eat it out of the mug with a spoon, but that was hardly a hardship! It's great only having one dish to wash at the end. 
For 1 person:
5 tbsp of roasted sweet potato (roasted in the skin, scoop out the insides when cool)
3 tbsp of caster sugar
1 egg
1 tbsp of cocoa powder
Chuck everything in the enamel mug, mash it all together with a fork, whisk lightly, cook it at 200C (180C fan) for 20(-ish) minutes. Eat it hot and it's a pretty tasty chocolate pudding, eat it cold and it's a really nice brownie.
Thank you Ruth for setting such a fun challenge!
Ruth from Makey-Cakey was our March 2013 Daring Bakers' challenge host. She encouraged us all to get experimental in the kitchen and sneak some hidden veggies into our baking, with surprising and delicious results!