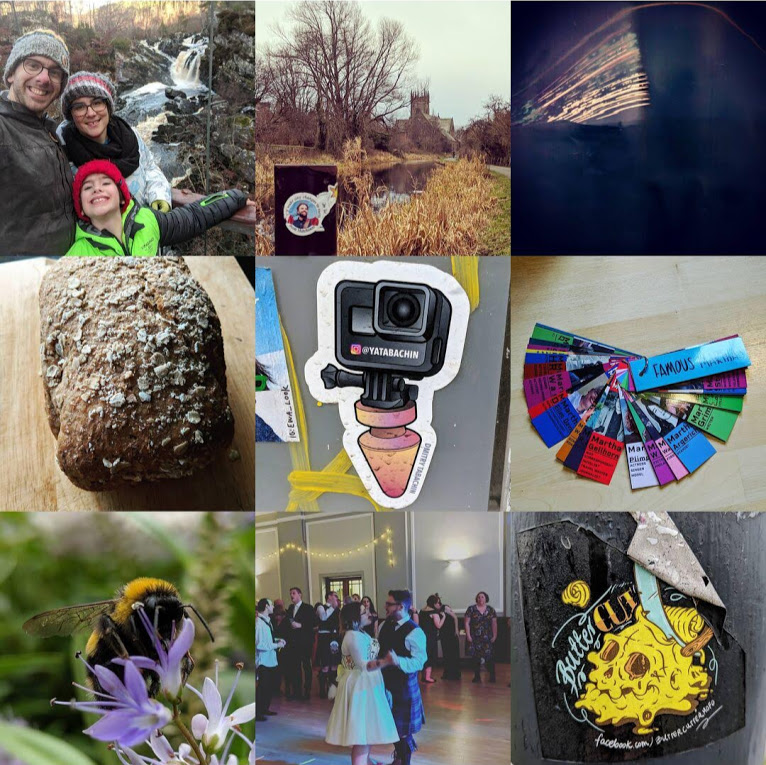 As it's a bit of a tradition, here's my 2019 roundup. I'm not going to get all mushy this year - it's been a great year in spite of some pretty tough bits for most people - and I'm so humbled and thankful to family and friends for all of the good stuff that's made this year awesome. We've achieved a lot this year (and am thankful of that) - next year I'm looking forward to sharing my first kids book with the world, popping up a yurt up north, making some music and travelling to some brand new places, all in the company of the awesome Ruth and Martha!
Top Books
Cory Doctorow - Radicalised
History of the World in 100 Objects
Neal Stephenson - The Diamond Age
Neil Gaiman - Norse Mythology
Matt Haig - Reasons To Stay Alive
Peter Burnett - How To Do Privacy In The 21st Century
Loki - Poverty Safari
Cory Doctorow continues to be a fantastic author, writing near-future sci-fi that questions the present in a way that tells wonderfully human-centred stories.
Top Films & TV
Endgame & Captain Marvel
Stranger Things (Season 3)
Zombieland 2: Double Tap
Anna by Luc Besson
Atomic Blonde
Russian Doll
Glass
Bandersnatch
Unicorn Store
Antarctica - A Year On The Ice
I've watched less low quality stuff this year so there's less chaff to choose from, but the Worst film of the year goes to Escape Plan 2 - honestly not sure why I watched it. Game of Thrones was pretty darn close to being that bad though!
Thanks to Kev for being my cinema buddy!
Top Places
Compared to last year it's been a year of more local travel... 2020 is already looking to have some interesting travel!
Last Christmas/New Year break to Poland brought joy that carried through much of the year - thanks R,M,C&S!
London social and for work - thanks D&B,D,E&M!
Achnasheen in a vintage camper with no proper working gears!
Camusdarrach - father-daughter camping! In the rain!
Norfolk - combining family visit with lots of CentreParcs time!
Durham and Elie with the two sides of the family
Mhor 84 - love this place!
Top Gigs
I've been to fewer gigs this year than I think I've been to ever before. I missed out of a free ticket to the Pixies as I was poorly, and on two separate trips to London missed artists I'm dying to see (Jon Hopkins and Frank Turner, both performing less than 10 mins from my accommodation!) I shall do better next year!
Underneath the Stars festival
Does Massaoke count?
Trinity Academy music concert and TPS Glee performance!
Supper Club
Jarvis Cocker
Top Music
Jon Hopkins - Singularity
Clean Cut Kid - Felt & Painwave
Jonnie Common - Trapped in Amber
Ellen Allien (no particular album)
Weezer - Weezer (Black Album)
Todd Terje - It's Album Time
Carla J Easton - Impossible Stuff
Phamie Gow - Rackwick Bay (just this track - I love it!)
CoCo and the Butterfields (no particular album)
Hope & Social - All Our Dancing Days (seeing this live was the greatest music moment of the year - the glory of cancelled show lightning storm in-tent mud brass band leaving the stage and joining the crowd madness)
Magic Sword - Volume 1
---
2019 - I'm done with you.
2020 - I'm looking forward to you... but please play nice!